Dr Vicky Koh
Dr Vicky graduated from the International Medical University in 2005. Since then, she has acquired 10 years of working experience in surgical related fields and even received awards of excellence. She had recently completed training in General Surgery when she developed a keen interest in aesthetic procedures.
The appeal of providing a unique, tailored approach to enhance each and every individual's natural beauty has led her to pursue her interest in aesthetic medicine. She has attended various conferences and workshops featuring internationally acclaimed plastic and cosmetic surgeons. Due to her surgical background, she also has a special interest in minimally invasive aesthetic treatments and reads extensively to keep up to the date with the latest aesthetic developments and techniques.
As a caregiver who is proficient in research, and up-to-date on upcoming and ongoing changes in medicine, Dr Vicky firmly believes in advocating treatments that are both well recognized and clinically proven. She understands that aesthetics medicine is best approached in a holistic manner where establishing rapport, and gaining patients' trust are as important as providing service that is ethical and built on integrity.
Dr Calvin Choo
Dr Calvin Choo completed his medical degree in AIMST University with honours. He then served his compulsory service in Queen Elizabeth Hospital, Sabah and Serdang Hospital.
During his tenure in various surgical related fields, he observed firsthand how aesthetic medicine is able to transform or enhance an individual's appearance. This combined with his love for minimally invasive procedures led him to venture into aesthetic medicine.
Dr Calvin's area of expertise includes Botox, fillers and face & nose threads. He is passionate about bridging patients' desire for beauty with aesthetic medicine. Able to converse well in Bahasa Malaysia, English and local Chinese dialects, Dr Calvin is more than happy to share his expertise with you. During his leisure time, Dr Calvin who is a Taekwondo blackbelt holder, likes to train in the gym.
Dr Lim Wenkie
Graduated from the University of Kursk in Russia, he has an accumulation of hands on experiences from working and completing his rounds in Hospital Besar Tawau and Hospital Besar Lahad Datu, Sabah. Throughout this time, he has been passionate about aesthetic medicine and has been taking every opportunity to enhance both his knowledge and skill base.
While recognising beauty in every face, Dr Lim Wenkie believes that the key to client satisfaction is providing every individual with a tailored treatment base on the desired outcome and unique facial feature. By using the only most advanced techniques, finest products, meticulous attention to detail and dedication to the artistic qualities of cosmetic medicine, Dr Lim Wenkie seeks to work with his clients to achieve a beautiful and realistic outcome as he is a firm believer in enhancement that sustains a natural look.
Dr Justin Lim
Dr Justin Lim is a graduate of the National University of Malaysia. He has immense working experience in multiple disciplines of medicine. He had been attached to the Kuala Lumpur General Hospital and was in pediatric surgery department at Sultanah Aminah General Hospital, Johor Bahru. It was from here that he took a liking for the surgical field and eventually the world of aesthetic medicine.
He is an avid reader, continually engaged in the ever-changing and demanding challenges of the intricacies, soft-skills and the finesse of aesthetic discipline. He has since pursued the Medical Aesthetic Certificate (MAC) program to be better equipped for this profession besides attending aesthetic medicine-related conferences and participating in these workshops.
Dr Justin believes, "Enhancing women's holistic aesthetic beauty is the embodiment of empowering women in society. For this reason, he takes great pleasure, pain and pride in his profession."
Dr Jesse Chong
Dr Jesse's keen eye for beauty and aesthetics led to his early exploration into the world of Aesthetic medicine, where the secrets between beauty and science unravelled. He keeps up-to-date with the latest medical aesthetic advancements and his top priority is to provide uncompromising, personalised service and care for all his patients. He specializes in facial and body contouring, skin rejuvenation, and anti-aging therapies via single or multi-modalities approach including various minimally-invasive aesthetic procedures that promises quick results with minimal downtime.
Dr Jesse is a graduate of Manipal University (MMMC) with multiple academic accolades such as MBBS Merit Award, Best Outgoing Student Award & Shobha Nadig Award of Academic Excellence. He underwent early medical training at Penang General Hospital under various departments and surgical disciplines. He then obtained the prestigious Postgraduate Intercollegiate Membership Diploma from the Royal College of Surgeons (MRCS) in Ireland , as well as the esteemed Basic Science Examination [BSE(Orth)] Certification by the Malaysian Conjoint Boards of Orthopaedics followed by the Malaysian Aesthetics Certification (MAC). He serves the medical aesthetic community as an active Committee Member of the Malaysian Society of Aesthetic Medicine (MSAM). Over the years, Dr Jesse emerged as an expert user of lasers, including the cutting-edge Fotona Starwalker PQX system. Numerous of his scientific publications are available in the acclaimed Laser and Health Academy (LA&HA) Journal, focusing on lasers for asian skin pigment and scar treatments. He has also authored articles on his special interests in stem cells and the musculoskeletal system to help advance the scientific community.
Dr Jesse is passionate about photography, travelling and is an avid fitness aficionado. His warm smile and positive energy will put you at ease as he goes through the options to revive your confidence, bringing out the best aesthetic potential in you.
Dr Lee Kin Hung
Dr Lee Kin Hung graduates from Melaka Manipal Medical College (Manipal International University) with Bachelor of Medicine and Bachelor of Surgery (MBBS).
After completing housemanship in Hospital Selayang, he had the privileged to work in district Raub before transferring to Hospital Serdang. He has immense experience in various specialities including emergency medicine, general surgery, as well as heart and lung surgery. While performing his operations, he was known to be very particular with beauty and finesse. From there he decided to venture into the world of aesthetic.
He aims for beauty treatment that are painless with minimum downtime and complication-free. This, he keeps himself updated with the latest techniques and products. He believes that not all are born with flawless beauty, but there is always room for improvement. To him, beauty is confidence.
Dr Oh Soon Keon
Dr Oh Soon Keon is graduated from Cyberjaya University College Of Medical Sciences (CUCMS) with Bachelors of Medicine and Surgery (MBBS), Dr Oh has a vast of experience in multiple disciplines in the field of medicine having worked in Hospital Seberang Jaya and Hospital Ampang. During his tenure as a medical doctor in general medicine, he had also served as a medical officer in the department of Nephrology.
During his time in practice, he developed a special interest in skin care and appreciate the phenomenal growth and advancements in skin care technologies and procedures thus leading to his passionate in aesthetic medicine. He believes that non-invasive to minimally invasive and non-ablative skin care techniques not only bring excellent and quick results but also allow minor downtime with very little risks.
Dr Oh is known for being very attentive and welcoming in addressing to his patients' aesthetic needs and desires. He believes that key to good health also lies in being fit and also minimising effects of ageing, thus allowing people to look and feel good as they live longer.
Dr Wong Yuk Hoong
Dr Wong Yuk Hoong obtained his Medical Degree (MD) with First Class Honours from Universiti Malaysia Sabah (UMS). Subsequently he started his medical career as a training doctor in Hospital Tuanku Ja'afar Seremban. Dr Wong was then posted to Hospital Taiping and progressed as a medical officer in the Anaesthesia Department.
He developed a great interest in the aesthetic medicine field at the early stage of his medical career. As a person who appreciates that beauty can nurture confidence, he decided to embark on the aesthetic medicine journey to bring self-satisfaction to his patients. He keeps abreast with the latest technology and trends in aesthetic practice by attending various workshops and seminars. He is also a member of the American Association of Aesthetic Medicine(AAAM) and currently pursuing a postgraduate certificate course in Aesthetic Medicine.
Dr Wong strongly believes that everyone deserves a fair chance and opportunity to enhance their outer beauty hence boosting inner confidence. This further substantiates his exceptional professionalism in both his clinical techniques and customer service, making him always noticeable as one of the best qualified aesthetic physicians.
Dr Joycelyn Loh Swee Hong
Dr Joycelyn Loh graduated from AIMST University with honours and completed her housemanship in Queen Elizabeth Hospital in Sabah.
She served as a medical officer in the Emergency Department in Queen Elizabeth Hospital and Serdang Hospital. With great passion in medicine and aesthetic, she started her aesthetic practice in a prominent chain aesthetic clinic.
She is very passionate in performing aesthetic treatments for her patients to give excellent results which will increase their self-confidence and quality of life. Dr Joycelyn is very experienced in aesthetic treatments like filler, Botox, threadlift, scar treatments, skin laser, laser vaginal rejuvenation and body sculpting.
Being a member of Malaysian Society of Aesthetic Medicine (MSAM), Dr Joycelyn always keep herself updated with the latest aesthetic trend and technology worldwide. She prescribes the latest and most effective evidence based treatment for her patients.
Dr Joycelyn is known to be soft-spoken, friendly and gentle among her patients. They always enjoy seeing her for their regular maintenance treatments.
Dr Leong Chee Hoe
As a graduate of International Medical University (IMU), Dr Leong was trained in Hospital Raja Permaisuri Bainun, Ipoh as a house officer. He subsequently practised as a medical officer in the Emergency Department in Hospital Ampang.
He is a passionate doctor with extensive experience in the medical field before his venture into the aesthetic field. He strives to provide aesthetic treatments that can instil confidence in his patients and delighted with their satisfaction in return.
He believes that with great knowledge comes great responsibility and thus strives to improve himself constantly to provide the best quality of treatment. With this belief, he has since pursued the Medical Aesthetic Certificate (MAC) program.
Dr Leong is known to be your friendly neighbourhood doctor as he always greets his patients with a very welcoming and friendly manner. He believes that aesthetic medicine will be able to unlock and enhance the beauty in every individual.
Dr Nick Grayson
Beauty is more than skin deep. When there is a healthy body and mind, the innate beauty of a person will radiate naturally. This is the motto that beholds Dr. Nick in his practice. Hailing from the land below the wind, Dr. Nick graduated from the prestigious First Moscow State Medical University named after I. M. Sechenov. He then proceeded to undergo his formative training years in Queen Elizabeth Hospital.
Subsequently he continued his service as a primary care cum radiology doctor, equipping himself with various surgical, clinical and radiological skills & catering to the needs of the local population. It is here that he developed his keen interest in dermatology as he was exposed to various challenging cases while working in a district hospital.
He started his aesthetic journey since 2018 and had the opportunity to train under Assoc. Prof. Datuk Dr. Morthy. He then went on attending various conferences and workshops to keep abreast of the latest advancement in aesthetic medicine. He is a fervent believer of personalized medicine, no one person is the same thus each individual requires a personalized approach to treat their concerns in a safe and ethical manner. Being a perfectionist, he sets a high standard for his work and aims to achieve the best result possible yet natural for each of his patients. He is experienced in various aesthetic procedures such as botulinum toxins, dermal fillers, energy based devices such as lasers and HIFU, threadlift and body sculpting.
Dr Bernard Chong
Dr Bernard graduated from Manipal University (MMMC) with a Bachelor of Medicine and Surgery (MBBS). He then started his journey as a medical doctor in Hospital Tuanku Ja'afar Seremban and subsequently progressed as a medical officer in the Orthopedic department. It is during this time he learn his surgical skills in performing minimally invasive procedures. He then pursue his journey in aesthetic medicine by being a member of American Academy of Aesthetic Medicine (AAAM). His passion in aesthetic then led him to further his knowledge and strengthen his skill by joining postgraduate course in aesthetic medicine.
Dr Bernard's interest in aesthetic medicine started from his experience as a child. He grows up struggling with his bad skin condition due to his eczema. Determined to make his skin condition better, he started to venture into aesthetic medicine. This inspired him to join aesthetic medicine field as he strongly believe that aesthetic Is able to help people to be the best version of themselves. By enhancing a person outer beauty, it will help to boost the inner confidence as well.
Dr Bernard is also passionate about health and fitness at early age. Fitness has always been a part of his life, and with this he is able to give the best fitness opinion and aesthetic experience for his patients.
Dr Alyse Lim Hooi Xin
The allure of remodeling faces, and lives, for the better has impelled Dr Alyse to pursue a career in aesthetic medicine and garner an armamentarium of qualifications along the way.
Dr Alyse first graduated from Cyberjaya University of Medical Sciences (CUCMS) with Bachelor of Medicine and Surgery (MBBS). She underwent her residency training in Hospital Sultanah Bahiyah, Alor Setar and subsequently gained experience in the Emergency Department as a Medical Officer. During her tenure there, she often encountered patients with various dermatological issues that severely impacted their lives and this further solidified her interest in medical aesthetics, leading her to enroll in various local and international aesthetic courses.
With years of aesthetic experience under her belt, Dr Alyse is today one of the leading aesthetic clinicians on the island of Penang. She has a very keen eye for detail, finely honed skills in injectables and a wealth of knowledge concerning all things aesthetic. In her free moments, Dr Alyse remains committed to exploring and studying new, better and safer techniques; development of new technologies; and researching into the best skincare ingredients for her patients.
Dr Valynne Ng
Beauty is being the best possible version of oneself, inside and out. Such is Dr. Valynne's personal philosophy that empowered her through her formative years into graduation from the famed I.M. Sechenov First Moscow State Medical University of Russia with distinction, along with the President Award for Performance Excellence.
Over her professional years, her passion for the field of Aesthetics and Healthy Aging blossomed, and she was inspired to pursue further subspecialty training in the field of Aesthetics and Healthy Aging. She was inducted as a member of the Malaysian Medical Association (MMA) and American Academy of Aesthetic Medicine (AAAM) for her excellence in the field, and awarded a Diploma in Aesthetic Medicine.
Fuelled by a genuine desire to be of service to others, her journey in Aesthetics was further enriched by the awarding of the Master in Science for Healthy Aging, Aesthetic Medicine, and Regenerative Medicine degree from University College Sedaya International (UCSI) with distinction.
Learning is a lifelong odyssey, and thus Dr. Valynne continues to hone her proficiency and knowledge in the field. She is accomplished in procedures and techniques utilizing botulinum toxins, dermal fillers, medical lasers, chemical peels, microdermabrasion, mesotherapy, skin tightening devices and more, in addition to being valued for her experience in stem cell treatments, cellular therapy, cell biology and genetics.
Dr Hana Mariah Binti Saim
Dr Hana graduated with distinction from Cyberjaya University of Medical Sciences (CUCMS) with Bachelor of Medicine and Surgery (MBBS) and began her medical career training in Hospital Sungai Buloh prior to pursuing General Surgery and Paediatrics as a Medical Officer. Her interest in Aesthetic Medicine was set in motion while being exposed to numerous congenital and acquired skin conditions during her training and peaked as she herself experienced a positive transformation through Aesthetic Medicine leading her to pursue the highly respected Medical Aesthetic Certificate (MAC) as she believes playing a role in someone's Aesthetic journey is just as fulfilling to witness as it is to experience.
In her practice, it is of utmost importance to take the time to understand how the patient feels before assessing and evaluating what they, as an individual patient, may be looking for and actually require bringing about natural results with subtle enhancements to maximise individual perfection hence the face is given back its grace without changing its fundamental character. Passionate about continued learning, Dr Hana regularly attends expert training, conferences and courses, conducted by top pioneers in the Medical Aesthetics industry for her patient's to be able to put their best face forward without taking their individuality away.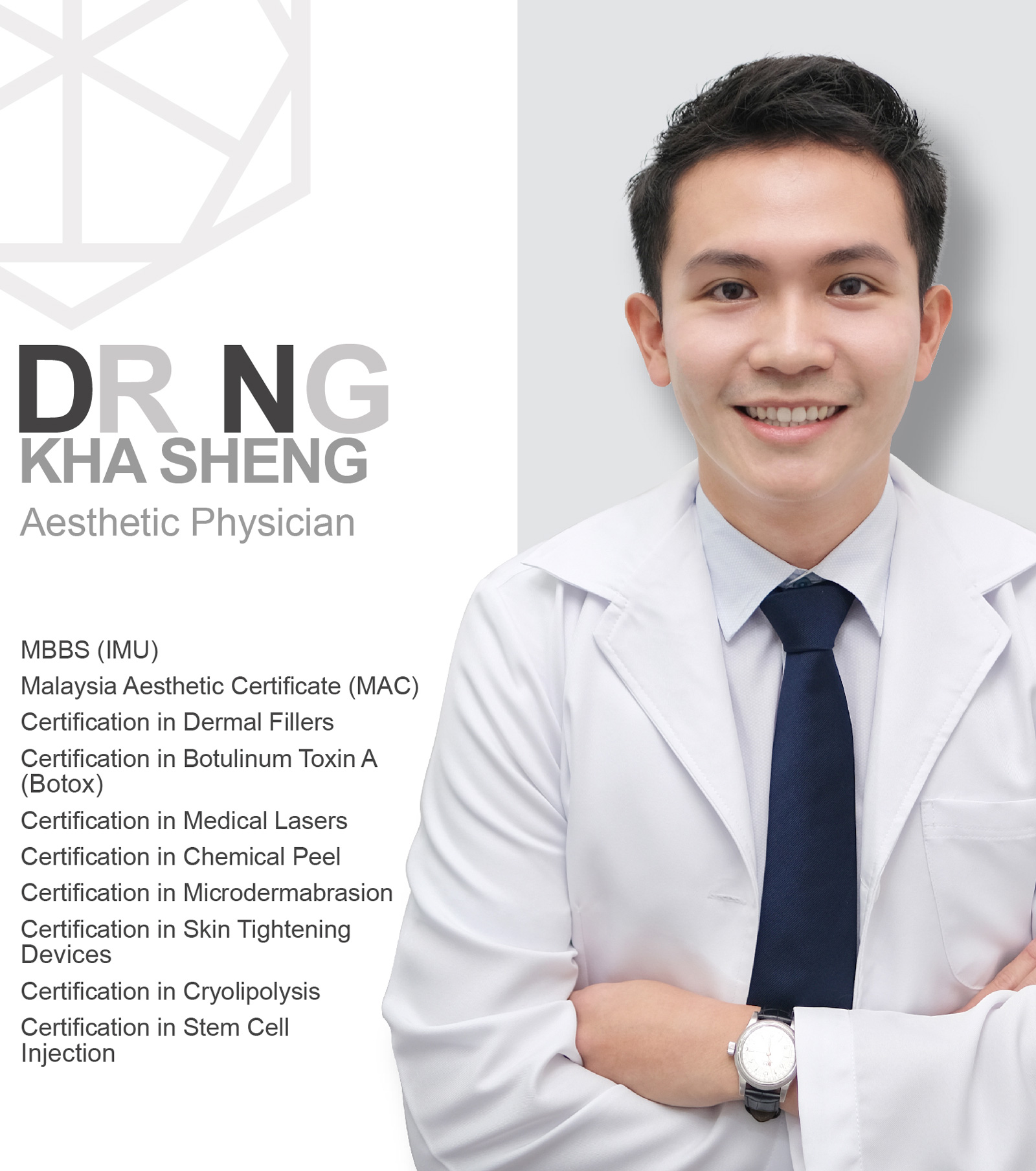 Dr Ng Kha Sheng
Dr Kha Sheng graduated from International Medical University (IMU) with Bachelors of Medicine and Surgery (MBBS), who then served his compulsory service in Hospital Serdang and Hospital Seremban.
Being a hands-on character, Dr Kha Sheng has deep interest in surgical-related fields and spent his early years in the operating theatre, improving his procedural skills. Whilst being out of the office, he loves the sun and spends his leisure hours swimming, biking and running.
His passion for aesthetic medicine bloomed seeing the positive transformation that it brought about not only from one's appearance, but lighting a change from within. Dr Kha Sheng believes that aesthetic medicine is a journey that we embark on together, achieving the smile that we all desire at the end of the journey.
Dr Emily Jong Chai Li
Hailing from the Land of the Hornbills, Dr. Emily obtained her Medical Degree (MD) from the Kursk State Medical University in Russia. She then began her medical training as a House Officer in Hospital Duchess of Kent, Sandakan and subsequently as a Medical Officer in primary care in Lahad Datu Health Clinic, Sabah. During her service in primary care, she encountered many patients with dermatological issues that has negatively impacted their self-esteem and this further fueled her interest in Aesthetic Medicine.
Dr. Emily believes that beauty is one of the main contributing factors of a healthy self-esteem, and aims to help patients achieve their individual cosmetic goals through holistic and personalized approaches, safe techniques as well as using products of the highest quality. She also aims for treatment that is pain-free, and with minimal downtime while delivering the best results as realistically possible.
Dr Gan Khai Shen
Dr Gan graduated from National University of Malaysia(UKM) with a Medical Degree. He had his training done in Hospital Sibu, Sarawak for his housemanship for 2 years whereby he was trained in multiple disciplines and gotten plenty experience from it. He then served the community in Covid department and subsequently joined Otorhinolaryngology(ENT) department. He had learned and mastered plenty surgical skills during his training in ENT department.
He then developed interest in aesthetic medicine and obtained his diploma in aesthetic medicine from Malaysian Medical Aesthetic Certification(MAC). He believes aesthetic medicine can aid a person in achieving confidence in life by looking healthy and elegant. Having a healthy self-esteem can eventually leads to a more quality and happier life.
He will continue to learn and improve his knowledge in this field so that he can provide the best service for you and makes your aesthetic journey with him a pleasant one.
Dr Tan Foo Hong
After graduating from AIMST University with a Bachelor of Medicine and Bachelor of Surgery (MBBS) degree, Dr Tan worked in Hospital Sibu, a hospital catering for the central zone of Sarawak in Borneo for 3 years before he developed a keen interest for aesthetic medicine and decided to chase after his dreams.
With a passion in aesthetic medicine, he started his journey by moving back to peninsular Malaysia and enrolled himself into the Malaysian Aesthetic Certification (MAC) program. By constantly updating himself with the latest aesthetic updates on knowledge, techniques and machines, concerning specifically on skin health, facial contouring as well as general health, he has built himself quite an armamentarium of skills.
As a soft spoken person and someone who also cares for his household plants Dr Tan has become quite attentive and caring which helps to make his patients comfortable and at ease. To quote something with which he lives by, "No need to hurry. No need to sparkle. No need to be anybody but oneself".
Dr Vivian Chow
Dr. Vivian graduated from International Medical University (IMU), Kuala Lumpur with a Bachelor of Medicine and Surgery degree (MBBS). She was then trained in the General Hospital, Teluk Intan (HTI) to fulfill her housemanship for 2 years and serve the public sector in Hospital Sungai Buloh (HSB) for another 2 years, particularly in the Covid Department and Pediatric Department.
Due to her deep interest in aesthetic medicine, she also obtained his diploma in aesthetic medicine from the Malaysian Medical Aesthetic Certification (MAC).
She emphasizes patient rapport to understand their concerns and aspirations to tailor treatments that are suitable for them. Her friendliness, and warm-hearted personality are sure to make you feel at ease during consultations and treatments with her. Being a yoga enthusiast herself, other than focusing on improving physical appearance, she also emphasizes on body contouring to bring out the best version of patients themselves in a healthy and safe way.
Dr Nomas @ Alvin Yeow
Dr Nomas is graduated from Melaka – Manipal Medical College. He has more than 10 years of experience in medical field in various government and private centres. During his tenure, he realized many of his patients are concerned about the side effects of conventional medicine and had refused to take them despite of their underlying medical illnesses. Thus, he had since focused on alternative treatments to help his patients. He realized there are many non-conventional treatments, such as nutritional therapy, cellular therapy, hypnotherapy, etc which are beneficial in treating patients with chronic illnesses.
Hence, Dr Nomas combined both conventional and non-conventional methods in his practice. He always treats his patients based on the latest guidelines and proven publications which have managed to create a number of success stories.
To achieve his goal of "serving the best for all his patients" he continues to keep his knowledge proficient and up to date by involving himself in multiple conferences in the international stage.
Dr Nomas is now a Malaysia registered hypnotherapist and a certified nutritionist. He believes that reverse aging is possible, and beauty is not just about the appearance but also about overall wellbeing. His principal of managing beauty healthily keeps himself motivated to serve more people with the latest in medical knowledge.
Dr Khoo Kay Wai
Dr Khoo Kay Wai is a leading facial plastic surgeon in his field. He specializes in all types of plastic surgeries such as eyelid surgery, rhinoplasty, ear surgery, facelift, breast augmentation, liposuction and tummy tuck. The highly skilled surgeon provides the best possible care to his patients, while giving them a more natural and younger look. One of his professional goals is to erase the social stigma that is attached to undergoing cosmetic surgery.
Dr Khoo graduated from CSMU under JPA scholarship. He completed Doctor of Medicine degree with honors. He always knew from his medical student's days that he is a surgeon at heart. He began his general surgical training in Hospital Klang where he picked up basic surgical skills. Later, he developed special interest in plastic surgery and was accepted into the highly competitive plastic surgery training program in Universiti Sains Malaysia under government scholarship. During his years of intensive training, he had been well trained in aesthetic, craniofacial, burn, micro and reconstructive surgery. As a highly qualified plastic surgeon, he continued to enhance his fine surgical skills and finesse in Hospital Kuala Lumpur.