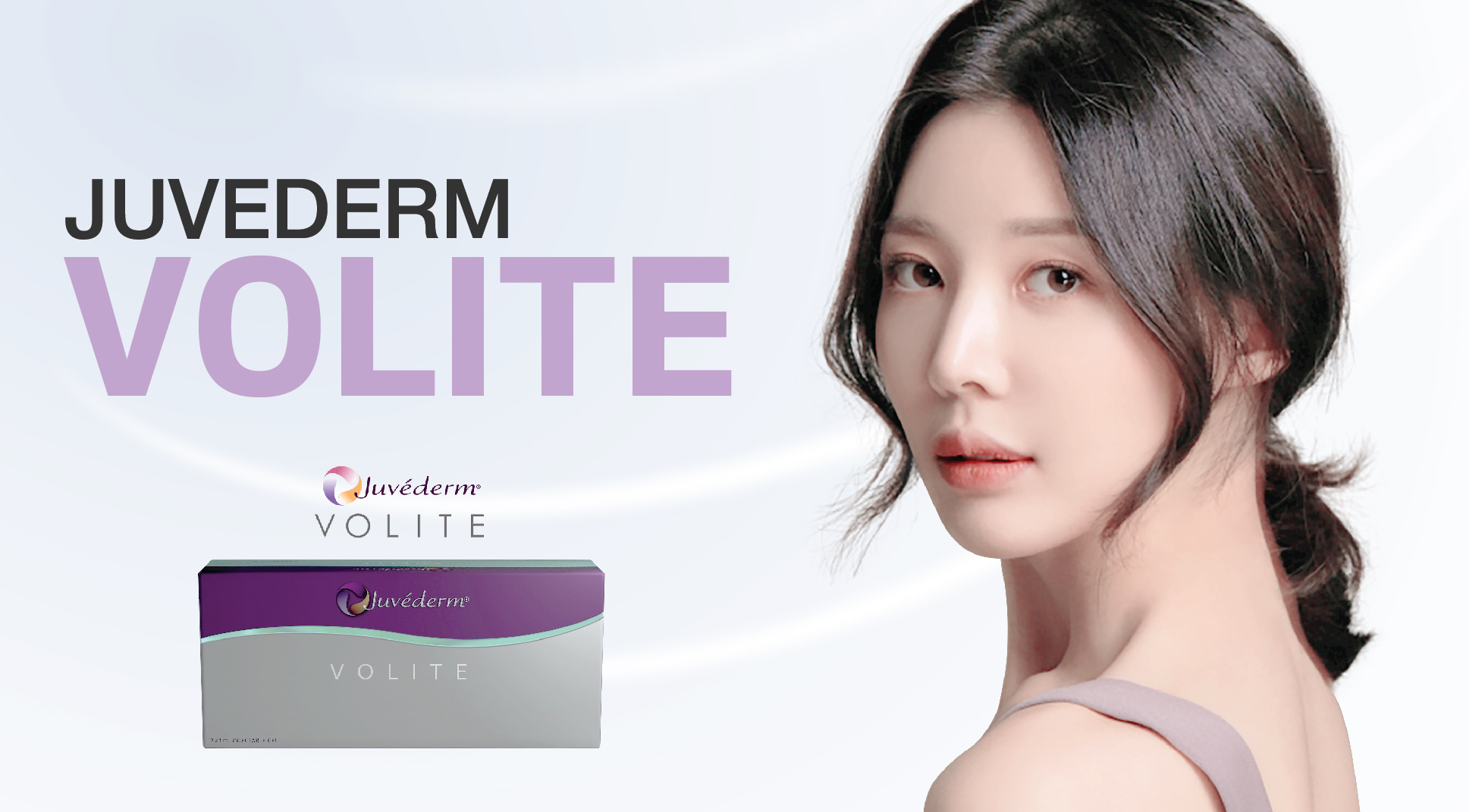 Volite, the latest product from the established Juvederm range – is the perfect skin booster. It's an injectable treatment that
hydrates, smoothens fine lines and increases elasticity of the skin.
Volite is suitable for individuals who want to improve their overall skin quality, hydrate dry/rough skin and improve fine lines. This injectable hyaluronic acid(HA) gel can be used on the face, neck, decolletage and hands. Its high water-binding capacity helps hydrates and plump the skin. This treatment also stimulates the body's own natural collagen formation. Clients will experience younger, renewed and hydrated skin that provides radiance and a dewy glow.
Small amounts of HA (hyaluronic acid) are carefully injected all over the face into the middle layers of the dermis (thickest layers of the skin) to nourish it from the inside out. The HA conditions the skin, ultimately improving skin quality for up to 9 months.



What are the differences between Volite and other skin boosters?
As Volite is a juverderm product, it contains the patented cross-linked Hyaluronic Acid technology. This confers it a duration of efficacy far exceeding the usual skin boosters. A single treatment with Juvederm Volite can improve skin hydration for up to 9 months.
The benefits of Juverderm Volite, apart from increasing hydration level of the skin, is also essential in improving skin's elasticity and smoothness. Juvederm Volite is also the only skin that can be used to hydrate your lips.
Is maintenance needed?
Maintenance treatment every 6 to 9 months is recommended.
How long can the result lasts?
Results from one session of treatment can lasts up to 9 months.
When can I see the result?
Subtle improvement in skin quality can be seen after few days with optimal results being seen in a month. Your skin will look smoother and more hydrated in a natural way.
Is this treatment painful?
It is minimally painful as the product is injected with an extremely thin needle which guarantees comfort, minimization of pain, swelling and bruising.
Is there any downtime?
There'll be small raised areas after the treatment which will disappear after 1 to 2 hours. Bruising, redness or tenderness which may occur with the treatment will recover after several days.
WHY CHOOSE US? 
As one of the leading aesthetic clinics in Malaysia, Clinic RX aims to empower individuals to look and feel their best, at every stage of their lives.
Whatever your concerns, be it enhancing your natural features or reversing the signs of ageing, Clinic RX is able to deliver a wide range of quality, state of the art & personalized aesthetic, cosmetic & wellness solutions, merged with exemplary service, in a warm and pleasant environment designed to make you feel completely at ease.