An increasingly popular trend in the Asian continent, it seems as if anyone with a feminine, pretty face tends to have a V-shape to it.
It may well be the standard definition of beauty (in Asian terms), where in a symmetrical face, the lip to chin distance should equal the distance between the forehead and eyes. 
With recent advances in aesthetics, there are now various ways to obtain this look without going under the knife!
Short Chin
Chubby Cheek
Undefined Jawline
These minor adjustments will confer an immediate change, which will continue to improve over the span of a week, resulting in a slimmer, more youthful and symmetrical face
Muscle Relaxant can be used to define the jawline by reducing the bulk of the masseter muscle on each side. These muscles are used for chewing and grinding food.
Occasionally, the dose of Muscle Relaxant may have to be tailored accordingly as the muscle bulk may differ from one side to the other.
Our special cocktail contains a few key ingredients that can dissolve fat cells, enhance its uptake into the blood circulation and boost the metabolic rate.
With just one treatment, a noticeable difference can be seen although more sessions may be required for optimum results. It is less invasive, and therefore a much more appealing alternative compared to liposuction.
A common method is augmentation with dermal fillers, which will add definition to the chin.
This is a quick and minimally invasive procedure with instant results.
Results is long lasting and natural.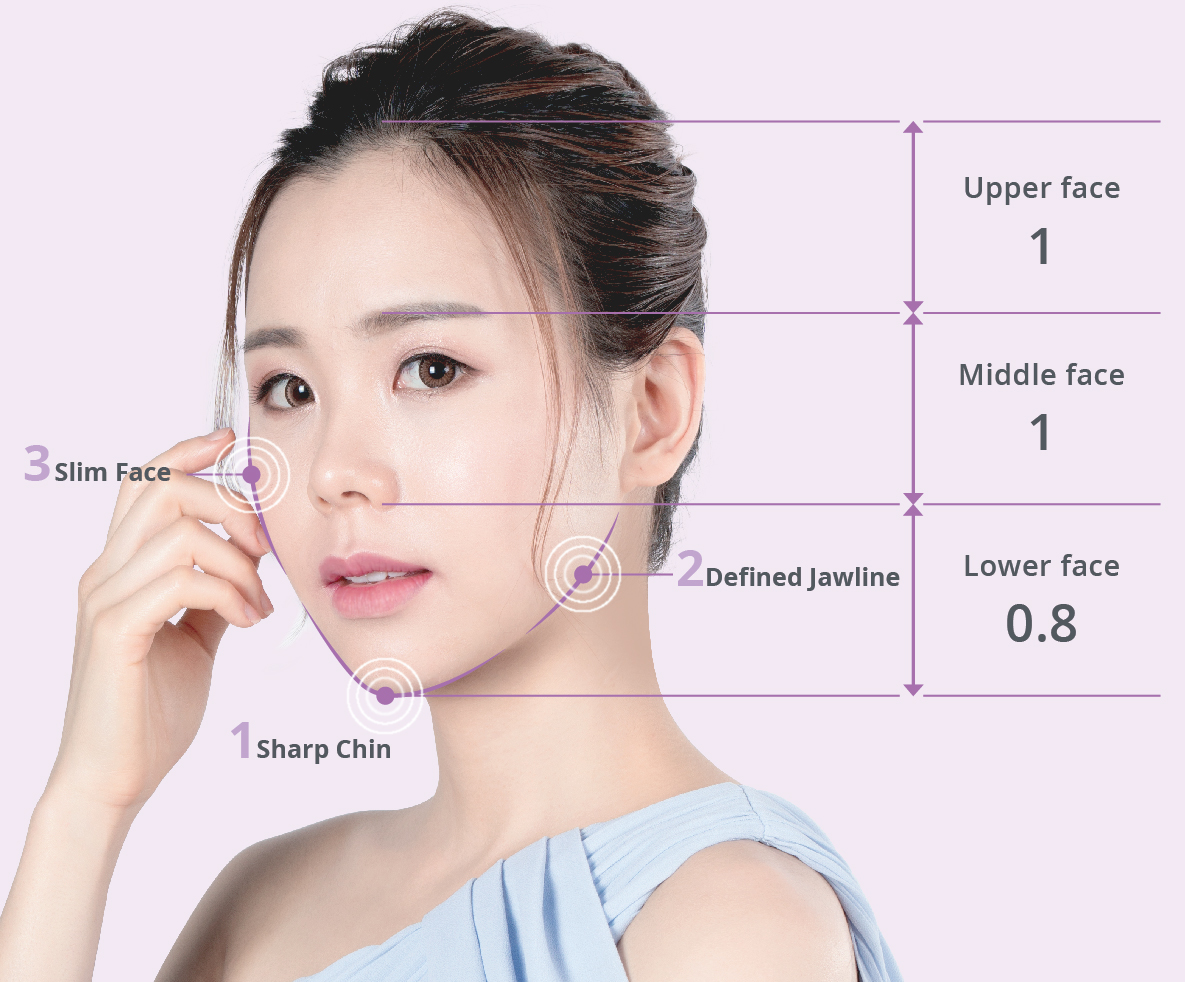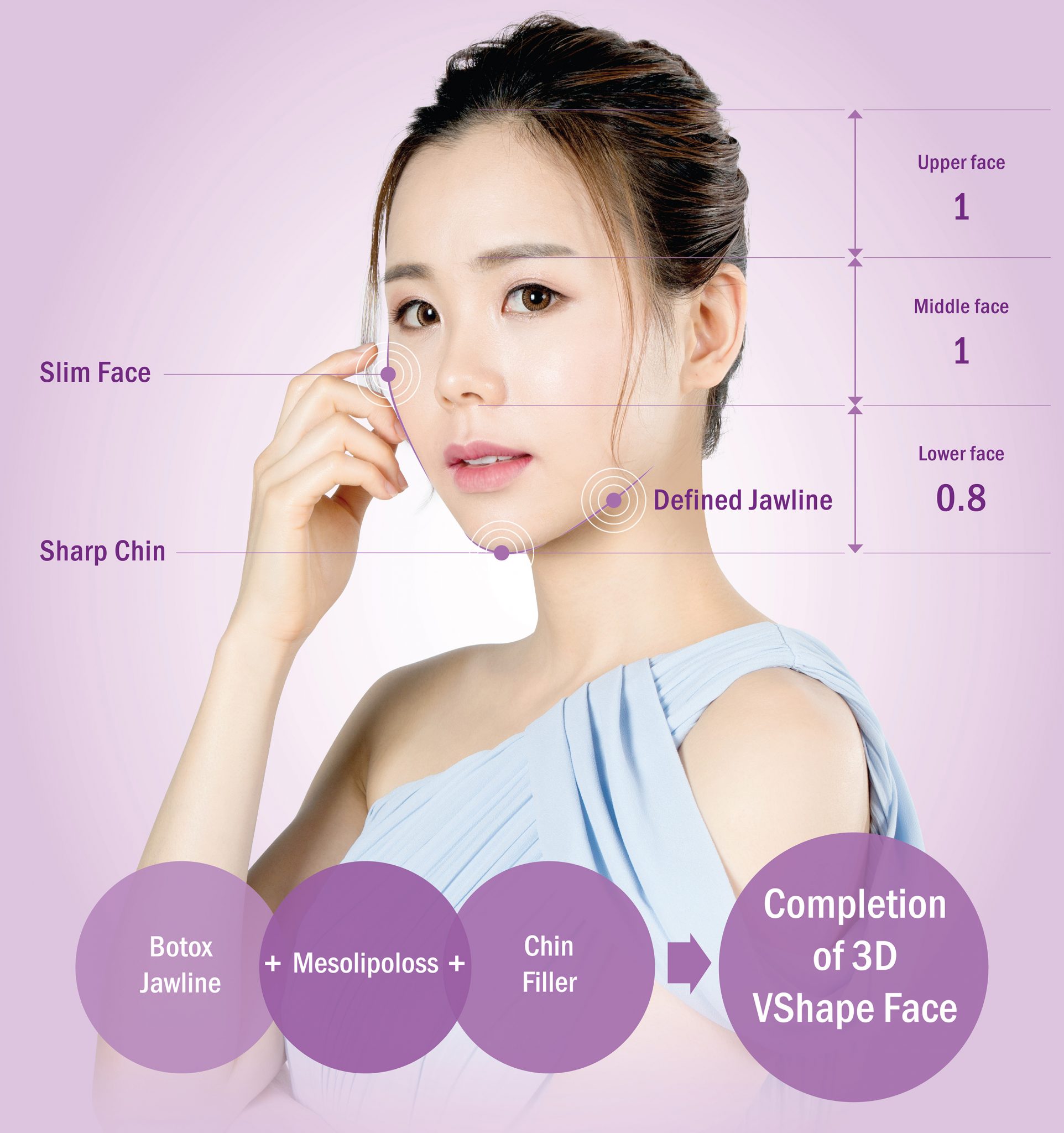 How long will the results last?
Muscle Relaxant:
The effects from BTA will last three to six months.
Mesolipoloss:
The results are long lasting because the treated fat cells die and will be gone for good. As long as you maintain a healthy lifestyle, the result should remain stable.
Dermal Fillers:
It can last up to 1-2 years.
Will I see results quickly?
For fillers, the result is immediate as most dermal fillers contain hyaluronic acid, a natural compound that aids in the production of collagen and elastin.
As for Muscle Relaxant and Mesolipoloss, you may begin to notice results within 9-14days. Remember that results vary from patient to patient, so your physician will plan your next appointment based on your results and aesthetic goals.
Are there any special precautions I need to comply with after the procedure?
-Avoid wearing makeup on the day itself after the procedure.
-Avoid alcohol & smoking for at lease 48 hours.
-Avoid swimming, sauna, massaging for at least a week.
WHY CHOOSE US? 
As one of the leading aesthetic clinics in Malaysia, Clinic RX aims to empower individuals to look and feel their best, at every stage of their lives.
Whatever your concerns, be it enhancing your natural features or reversing the signs of ageing, Clinic RX is able to deliver a wide range of quality, state of the art & personalized aesthetic, cosmetic & wellness solutions, merged with exemplary service, in a warm and pleasant environment designed to make you feel completely at ease.